STORAGE DEW CHASER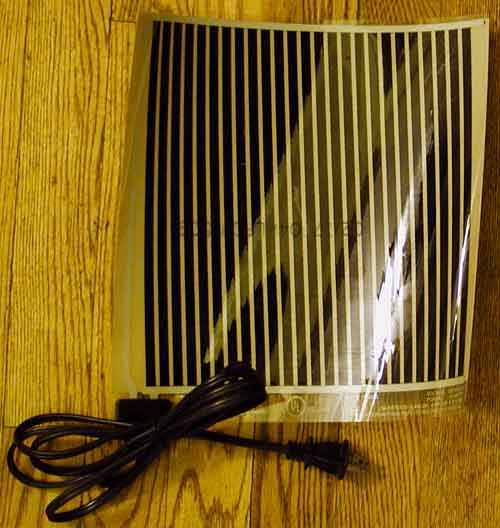 Our storage Dew Chaser is for astronomers who store their telescopes in unheated sheds, garages or trailers. The warm, moist, morning air can form dew on your primary mirror because the mirror is still cold from the night before. This cycle of dew can degrade the aluminum coatings on the mirror.
The Dew Chaser keeps the mirror slightly warm, preventing dew from forming. Just toss it in the bottom of the Rocker box and plug it in. There is nothing to install or mount.
If you want to get really fancy, you can even plug the Dew Chaser into any household appliance timer so that it only runs from 3am to 1pm. That way your mirror is protected during the morning dew, but can cool down during the afternoon, ready for the evening's observing.
The Dew Chaser uses standard 110v and puts out 18w of heat over about one square foot of area. The 1mm thick sheet is filled with carbon strips that provide safe, even heating. If you are tired of trying to control dew with light bulbs that constantly burn out (leaving your mirror unprotected for weeks), or all of the bugs light bulbs attract, the Dew Chaser is for you!
Price: $ 19.99 ea. Temporarily out of stock, it may be a few months until our supplier makes another batch.