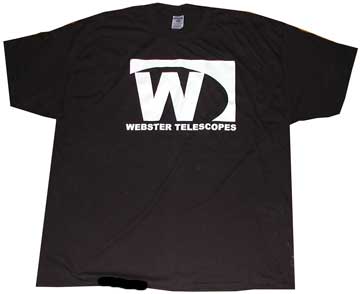 WEBSTER TELESCOPES T-SHIRTS:
It used to be you had to buy a Webster Telescope to get a T-shirt, but with black market prices approaching $13 we decided to flood the market with these stylish threads. These Jerzees heavyweight 100% cotton shirts are ultra black, guaranteed to reflect less light than those white astronomy shirts found elsewhere.
Even if you don't have your Webster Telescope yet, let 'em think that you do. Whether you are at a star party, on a runway in New York, or in a grimy Detroit alley, put the fear of big aperture into all those who set eyes upon you.
XL $9.99
XXL $11.99
---