GUSSETS and BRACES
Why buy Webster Telescope Gussets and Braces? Because they are cut to provide a true 90° angle, probably much more accurately than your saw could at home. Our Braces utilize a hole that allows warm air currents to move away from the mirror, rather than gather and roll in the corners, another great Webster Telescope innovation.
When used together our Gussets and Braces form a wiring channel that allows you to neatly rout wiring up the corners of the mirror box. This eliminates any chances of the wiring getting loose and contacting your mirror. 3/4" thick.
PRICE: GUSSETS $5.00 a running foot.
BRACES $10.00 ea.
DOBSONIAN FEET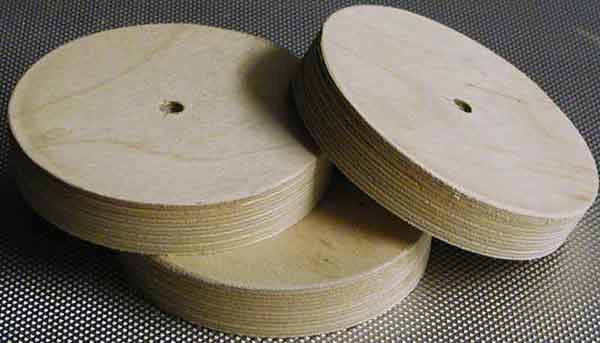 Our round Dobsonian Feet are less likely than square feet to catch on ramps or SUV lips, don't ask how we know that! At 3/4" thick our Telescope Feet provide needed ground clearance for your groundboard. Easily stacked if additional clearance is required. Remember, never use more than three feet on the bottom of a groundboard. A three legged stool never wobbles.
PRICE: $2.00 ea.