RED LED FLASHLIGHT NEVER NEEDS BATTERIES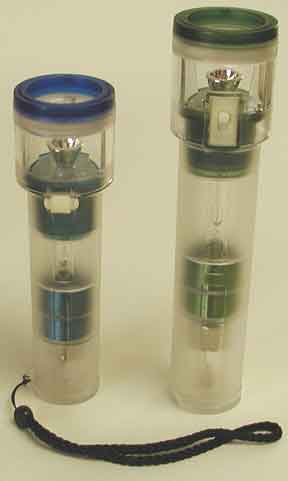 Great Red Spot came out with a cool new product, a Red LED Flashlight that NEVER needs batteries! You just shake it up and it runs well over an hour. How many times have you opened your case to find you left the flashlight on and now the batteries are dead? Shake this flashlight a few times and you have plenty of light for astronomy charts, without ruining your night vision. Shake for 30 seconds and now you have a bright red light for tear down. The switch glows green in the dark for easy identification.
This is NOT one of those lightweight, counterfeit "shake lights" with the batteries behind the reflector. This is a heavyweight, waterproof flashlight made to last a lifetime.
Price: $24.99
Great Red Spot Jr flashlight is a smaller version of the original with a little less run time (still over an hour). Ideal for those who want lighter weight and smaller size, but still need a lifetime quality flashlight.
Price: $19.99