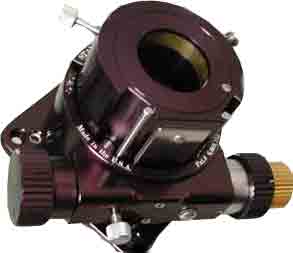 FEATHERTOUCH FOCUSER: The Feathertouch is the only focuser we here at Webster Telescopes would even consider worthy of using on our own telescopes, thus we highly recommend them to the ATM.
The Feathertouch features: 2 speed, 10:1 focusing, the fine focus knob can be switched from right to left hand, all wear parts are made of hardened stainless steel and are field replaceable, the included tension knob allows the focuser to be locked into any position (great for astrophotography), brass retaining rings securely hold your eyepieces without leaving any set screw marks.
The included 1.25" adapter is threaded to allow you use 2" filters with your 1.25" eyepieces. This saves you a small fortune in redundant filter sets.
We almost always have this item IN STOCK for the ATM (why wait over a month for other suppliers?). We stock the complete Feathertouch "kit": the two speed 1.5" height focuser, the draw tube compression ring upgrade, the leveling style base upgrade, and the Feathertouch 1.25" adapter upgrade.
PRICE FOR ENTIRE KIT: $449
---