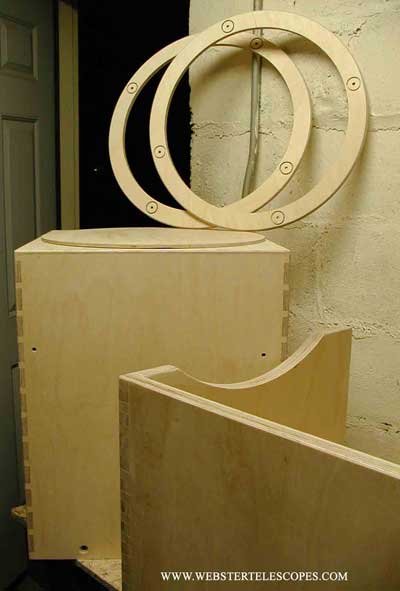 FINISHING: Webster Telescopes uses glues and finishes borrowed from the boat industry (We ARE located in the Great Lake State). We finish our scopes inside and out, no bare wood anywhere. First we seal any exposed endgrain, as the endgrain would otherwise absorb more of the finish than the board face . Then our HVLP (High Volume Low Pressure) spraying system insures you get a lasting finish that will really stand up to those dewy nights. Finally the entire wood surface gets a hand rubbed, low sheen finishing step.
Why low sheen? Being master woodworkers, we understand you have to match your finish to the task. A high gloss finish looks great on a jewelry box, but you would not want it on a fine tool box. High gloss, of course, shows every finger print, highlights every little scratch and generally looks worn in a hurry. Who wants a telescope you have to handle with kid gloves?
Astronomy is a relaxing hobby, we worried about the finishes so you would not have to.
CONTINUE TOUR: ELECTRICAL
---