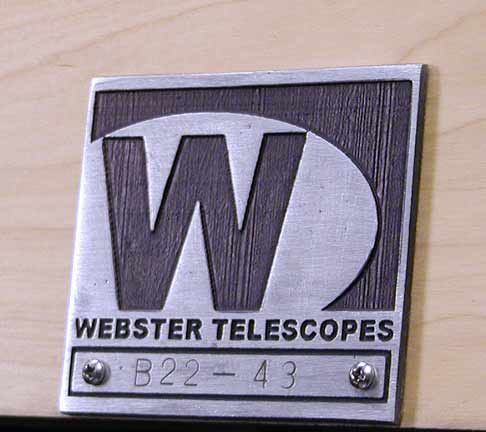 YOUR OWN SCOPE: Unlike other "quality" telescope manufacturers, we actually test your telescope with the optics and drives in place. Be sure to ask others if you are getting an entire tested system, or just basically a kit that you have to assemble and program upon arrival.
Your completed telescope is taken out, and we get some dust and dew on it for you. We star test the optics. We program and test the DSCs for accuracy. We program and run the GOTO system through its paces. We cut the trusses to the proper length for you. The Webster Telescopes optical path is designed for binoviewers right from the start, so your binos will have plenty of in-focus, even with your glasses off.
Only after the scope has proven itself perfect do we bolt on the hand cast serial number plate and your scope becomes an official Webster Telescope.
Thank you for taking our Quality Tour. Please let us know when we can be of service to you,
The Webster family.
---