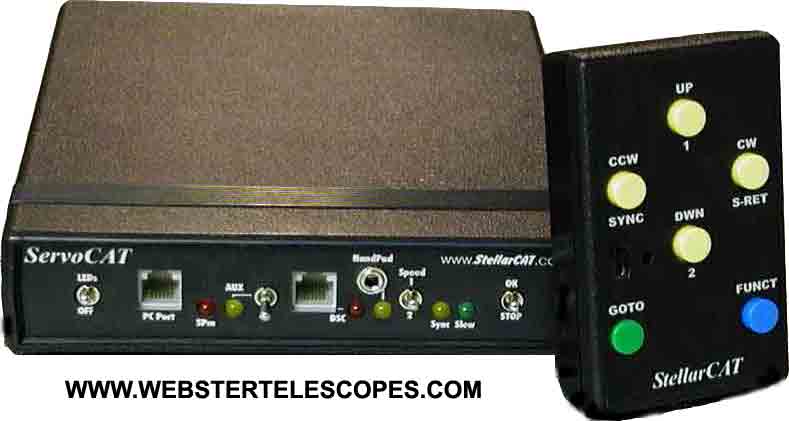 SERVOCAT
The ServoCAT by StellarCAT gives the Dobsonian telescope something that was on everyone's wish list over the decades: GOTO and TRACKING! That's right, just dial in an object on the ArgoNavis or Sky Commander DSC, hit the GOTO button on the hand pad, and get out of the way! The ServoCAT drives your scope right to it. Even 1 meter scopes are no match for the torque developed by the powerful motors of the ServoCAT.
The first time you see your giant telescope slew over to an object all by itself with the ServoCAT in control is amazing. After one night, it becomes a necessity!
Once the ServoCAT locks on to an object, it tracks, keeping the object in the eyepiece as it moves through the sky. Even if you don't own a DSC, the ServoCAT can track by aligning on the North Star.
Experienced astronomers agree you increase your apparent telescope aperture by up to 40% when using tracking; you concentrate on the object in the eyepiece, rather than moving the scope around. An absolute necessity for the long lines around your scope at a public star party.
We can do a basic installation on almost any brand telescope
ServoCat GOTO and Tracking System, (requires ArgoNavis (or Sky Commander) for GOTO), installed and tested:
12-20" scopes - $2400 includes stalk for mounting controls
22-28" scopes - $2500 no stalk needed, controls on UTA
30-40" scopes - $2600 no stalk needed, controls on UTA
TELLAR CAT