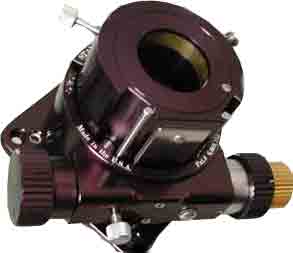 FEATHERTOUCH FOCUSER: The focuser is the interface between you and the scope. In order to place that million year old beam of light in the right spot on your retina, you need a precision focuser. We are just going to come right out and say it; THE FEATHERTOUCH IS THE BEST FOCUSER IN THE WORLD! There are other really nice designs in the field, the Clement and the Moonlite come immediately to mind, but none come even close to the feel of the Feathertouch.
The Feathertouch features: 2 speed, 10:1 focusing, the fine focus knob can be switched from right to left hand, all wear parts are made of hardened stainless steel and are field replaceable, the included tension knob allows the focuser to be locked into any position (great for astrophotography), brass retaining rings securely hold your eyepieces without leaving any set screw marks. The base is the deluxe adjustable model.
The included 1.25" adapter is threaded to allow you use 2" filters with your 1.25" eyepieces. This saves you a small fortune in redundant filter sets.
Here at Webster Telescopes, we would not even think of putting anything less than the very best on our scopes. Other "quality" scope builders will try to charge you extra for what they should have put on your scope in the first place.
---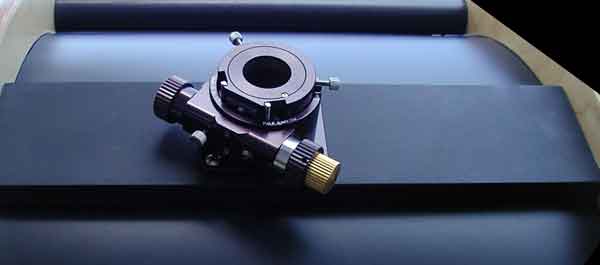 FOCUSER BOARD: Note how our focuser board is finished in flat black, as is our light shield and UTA struts. Although this makes for a handsome looking scope, the reason behind it is more than just aesthetics. Light colored or reflective surfaces rob you of viewing contrast. Think about how many times you have had to cup your hands around your eye to try and block out the reflected light from a white painted scope. When you are looking at an object at the very threshold of human vision, you want your tools to be designed for the task. Again, it does not make any sense at all, but some manufacturers keep using glossy wood or white paint around their focusers, year after year.
What happened to our thin focuser boards? Binoviewing! In years past, one could get away with a thin, curved focuser board, and it would handle any eyepiece you were likely to put on it, but no more. Binoviewers have taken the hobby by storm. With their relaxed, detailed views, you really do "see" more with two eyes. Unfortunately, they weigh a lot, and extend quite a distance from the focuser, giving that weight even more leverage. One telescope manufacturer told me it "didn't matter" how much stress the binoviewers placed on the focuser board. I asked him if he ever put a laser collimator into a binoviewer and measured the deflection. He stammered "Well, if your going to start doing that...I mean...uh...well...". So, long story short, we have beefed up our focuser boards for binoviewing and the new DSLR cameras.
---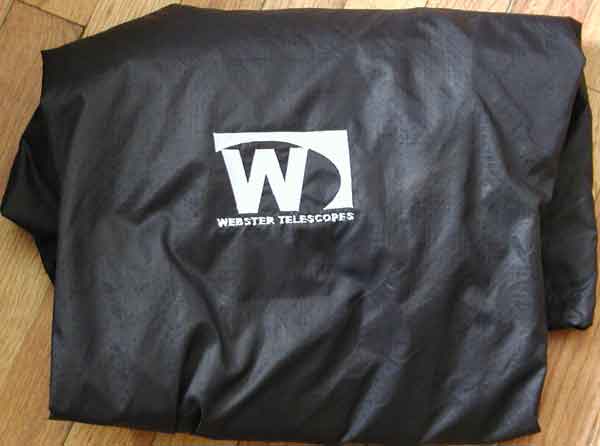 LIGHT SHROUD: Every Webster telescope comes with a light shroud at no additional charge. A light shroud performs four important functions:
1. It blocks stray light from entering the telescope's light path, thus providing higher contrast images.
2. It blocks one's own body heat from entering the light path.
3. It keeps objects from falling on the mirror.
4. It helps keep dew under control.
Our shroud is made from a tough, military fabric called Ripstop Nylon. It blocks light and body heat better than cheaper, stretchy fabrics. Ripstop Nylon is unique because if you tear a hole in it, the hole does not enlarge over time. It will not stain your mirror box if it becomes wet like some cotton/Lycra fabrics can.
We use Velcro to insure our shroud fits the scope perfectly.
CONTINUE TOUR: ROCKER BOX
---