HOME
SCOPES

PICTURES

QUALITY

OPTICS

F.A.Q.

SERVICES

ATM PARTS

ACDS

SWAG

LINKS

CONTACT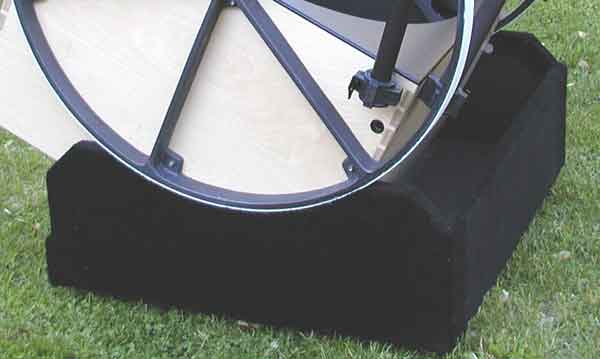 ROCKER BOX: Our first instinct was to make the rocker box a finely finished piece of furniture like the rest of the telescope. But, what would be the use? The rocker box gets scratched constantly by the ladder, it gets jammed in doorways, and just generally gets abused. Looking to other industries for inspiration, we decided to make a "roadie" proof rocker box by covering the wood with the same synthetic covering used on road cases for touring bands. This Roadex covering is scratch proof, acid proof, flame resistant, mildew proof, beer proof, whatever, it's Detroit tough. If you could somehow tear it, you could just glue it back down and the tear would become invisible. This innovation became available in our C series scopes and later, and is available as a retrofit on any prior scope.
The interior of our Rocker Box is finished in flat black to avoid reflecting stray light back to the eyepiece. Beware of any Rocker Boxes with shiny or light colored interiors, as stray light kills contrast.
These are more examples of how a Webster Telescope is the best designed telescope you can own.
CONTINUE TOUR: FINISHING
---