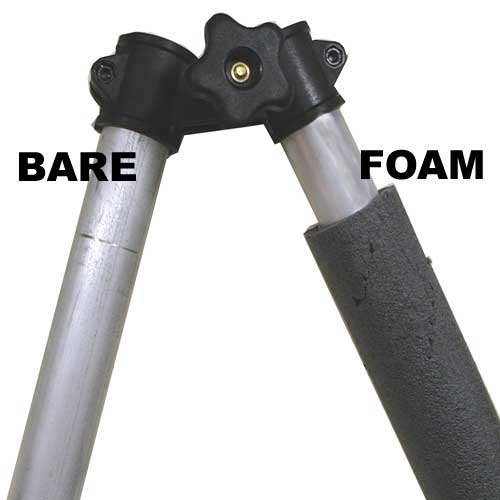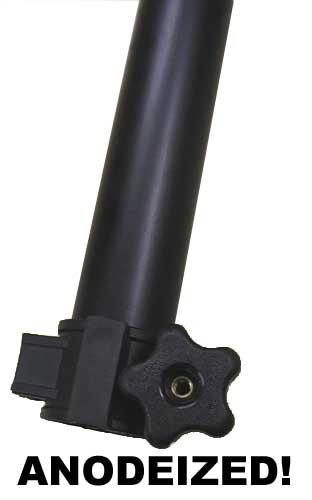 TRUSSES: Aluminum exposed to air naturally oxidizes and forms a layer know affectionately as "smut". This smut turns your bare hands grey or black when you handle it. Even this smutty aluminum is bright and shiny, just what we don't want scattering light down 80% of a telescope's light path. Some have tried to cover the trusses with foam rubber to hide the aluminum, but the rubber shreds after a single season, and is at best a grey color.
All of our aluminum trusses and hardware is anodized flat black. Anodization is the process of growing hard aluminum oxide crystals (think sandpaper) on the surface of aluminum, then infusing it with color before sealing it. This is not an inexpensive process, but it never chips or peels because its part of the aluminum itself. Lesser "quality" scopes have painted, foam rubber coated, or even bare aluminum trusses.
Another important point is all of our aluminum trusses are free of ANY welded, machined or proprietary parts, they are literally "straight pipe". This is advantageous in a few ways:
A). The hollow tubing allows all Electrical wiring to run down inside it for a nice clean look, free of grasping little hands at public star parties.
B). If any of the trusses are ever lost or damaged, a large hardware store will have an instant replacement for you in stock (even if its not the same aircraft aluminum, any same diameter tubing will do in a pinch). This is more important than you at first might think. Can you wait three months for the manufacturer to fabricate a replacement truss for you? (Yes, this has happened.) What if the manufacturer has been displaced by a hurricane or has gone out of business?
C). The grounded tubing electrically shields the wires from outside interference.
CONTINUE TOUR: AZIMUTH PIVOT SHAFT
---