32" f/3.6 - C32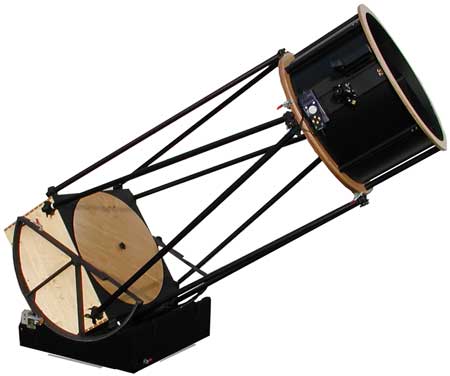 Our C32 is for those who want really big aperture, Kennedy optics, and only three steps up at zenith. In fact, this scope is shorter than our competitor's 25" scopes!
With the C32's 108" eyepiece height at zenith, 40% of the time you will be observing with both feet on the ground. Great for public institutions or the "ladder phobic"!
Easily moved about by one person. Leave it assembled in the garage and roll it out for instant use. Using our included wheels, it glides through 44" doorways with room to spare.
The C32 can easily be assembled by one person with both feet on the ground, no ladder needed.
The C32 was designed from day one to utilize the Argonavis and ServoCAT, with both mounted right next to the eyepiece. No climbing up and down the ladder to use the Argo. No bulky controller boxes or tangles of wires hanging outside of the scope waiting to become damaged. Even the dew heater wires for the secondary mirror run inside the trusses. Here at Webster, we believe out of sight is out of harm's way (of course it doesn't hurt that it looks great too).
Of course at no extra charge, the C32 comes with:
Feathertouch 2 speed focuser with deluxe adjustable base
Newly redesigned HD Astrosystems Secondary Holder
Spherical Bearing 27 Point Mirror Cell
1/8th wave Secondary Mirror
Rip-stop Light Shroud
10" Pneumatic Tires
Scratch-proof Roadex Rocker Box Covering.
Eyepiece height at zenith = 108" (274cm)
803 square inches of aperture!
A = 41" (104cm)
B = 41.75" (106cm)
C = 29.5" (75cm)
D = 39.25" (99cm)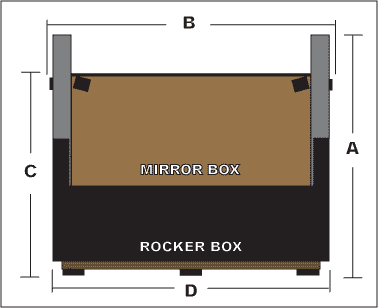 Truss Length 72" (182cm)
Overall Height 118" (299cm)
Swing Radius 89" (226cm)
Take our Quality Tour.