14.5" f/4.5 - D14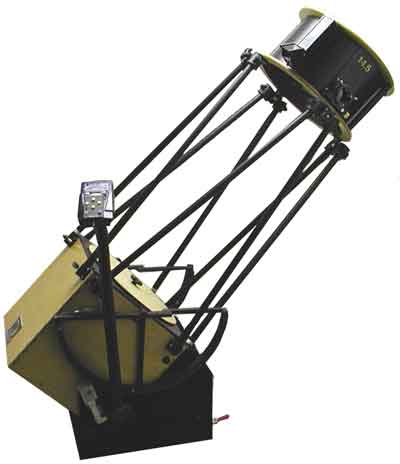 We know it has been quite a long time since we have offered any telescopes smaller than 22 inches in aperture, so it is with great pride we re-introduce a 14.5" model. Because the scope has a focal ratio of f/4.5 no Paracorr is needed.
The completely redesigned D14 features a 14.5" primary mirror by legendary optician Carl Zambuto.
The D14 features our oversized 23" Altitude Bearings and balance system, allowing the scope to stay put without playing around with counterweights all night. Go from a 2.5mm Nagler to a pair of Denk II Binoviewers and still have the scope in balance. Don't try that with any of our competitor's scopes!
With a total weight at just over 50 pounds, the D14 is actually lighter than many "ultra light" scopes, yet much more stable. Of course, you are only lifting 8 pounds at the end of the wheelbarrow handles.
The D14 was designed from day one to utilize the Argonavis and ServoCAT. No bulky controller boxes or tangles of wires hanging outside of the scope waiting to become damaged. The wires for the controls run INSIDE the Control Stalk. Even the dew heater wires for the secondary mirror run inside the trusses. Here at Webster, we believe out of sight is out of harm's way (and of course, it doesn't hurt that it looks great too).
Of course, this scope comes with a spherical bearing Mirror Cell, Protostar 2.6" 1/10th wave Quartz secondary mirror, Wheelbarrow Handles with 10" tires, Telrad finder, Rip-stop light shroud, Feathertouch 2 speed focuser with adjustable base, scratch proof Roadex rocker box covering and all the great hardware you expect from Webster Telescopes.
(if you have Flash installed, you can watch the above video about the D14)
Eyepiece height at zenith = 64"
165 square inches of aperture
A = 30" (76cm)
B = 21.5" (55cm)
C = 22.75" (58cm)
D = 19.5" (50cm)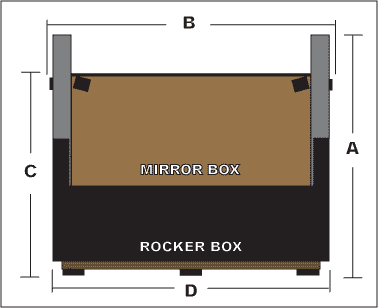 Truss Length 41.5" (98cm)
Overall Height 72" (175cm)
Swing Radius 50" (119cm)
Take our Quality Tour.