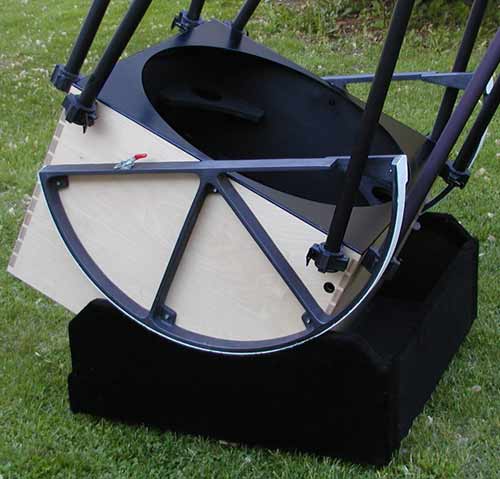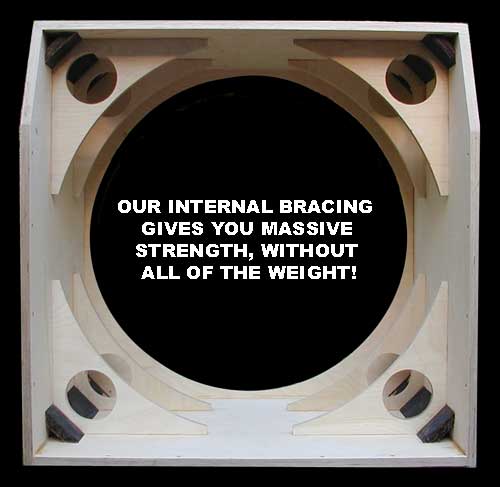 MIRRORBOX: Our Mirrorbox begins with 3/4" EuroPly or ApplePly 13 core plywood. Why so many layers compared to the inexpensive 3/4" 5 core plywood sold at the local home improvement center? Strength and rigidity!
Inside the Dovetailed Mirrorbox, we reinforce the walls with Gussets and Braces. This adds incredible strength while saving weight in the process. The webbed design of the Braces allows warm air to rise rather than pool in the corners.
If you want maximum contrast in your images, you have to design light control into your telescope from the start. Take a look at our Light Baffle on the top of the Mirrorbox. Note that it is not a glossy wood finish or painted gloss white, it is BLACK. It's the Light Baffle's job to block and absorb stray light, not to reflect it back up into the eyepiece! It does not make any sense at all, but some manufacturers keep using glossy wood or white paint, year after year.
Our monster sized Altitude Bearings are cast in lightweight aluminum, saving lots of weight and providing strong reinforcement to the sides of the Mirrorbox. After the castings have cooled, they are then anodized with a tough flat black finish. Because part of the altitude bearing lies inside the light shroud, this black finish keeps stray light from scattering off what would otherwise be shiny aluminum.
Note that by installing our Truss Clamps on the outside of the Mirrorbox, we are able to shrink it down 4-7" over a conventional, oversized Mirrorbox. Our smaller Mirrorbox is stiffer, lighter, and easier to pack into your vehicle.
CONTINUE TOUR: TRUSSES
---