HOME
SCOPES

PICTURES

QUALITY

OPTICS

F.A.Q.

SERVICES

ATM PARTS

ACDS

SWAG

LINKS

CONTACT

28" f/3.6 - LC28 LUNAR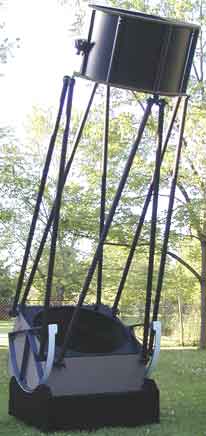 For the serious lunar observer, our LC28 is the industry's only large aperture, LUNAR telescope. Nothing can prepare you for the incredible views through this instrument. See the moon with incredible contrast, resolution and color like you have never seen it before. With 615 square inches of aperture, the resolution of this scope is going to make you think twice about that $30,000 refractor. No contrast robbing, neutral density or variable polarizing filters are used with our optimized design. The mirror box and UTA are fully flocked. The cell is light trapped from behind, while still offering plenty of airflow (we're big on cooling around here). The LC28 features a Kennedy primary that is completely free of any coatings, thus returning 5% of the light with none of the scatter that even the best aluminum coatings cause. In fact, this may be the only time you ever get to see the absolute, full potential of what a Kennedy mirror is capable of. These scopes are produced in our limited edition "Moon Dust" finish. Better clean your eyepieces and order that binoviewer you have dreaming about; this scope is going to make the moon your favorite object in the night sky. Comes with Wheelbarrow Handles, 13" pneumatic wheels, Telrad finder, Rip-stop light shroud, and Feathertouch 2 speed focuser. Another Webster Telescope exclusive.
Eyepiece height at zenith = 93" (236cm)
615 (1573cm) square inches of aperture !
A = 33" (8cm)
B = 37" (93cm)
C = 29" (71cm)
D = 35.5" (88cm)
E = 32 x 32" (81cm)